From a letter ... to a train wreck: How the GOP derailed the government
Defunding "Obamacare" grew into derailment of government.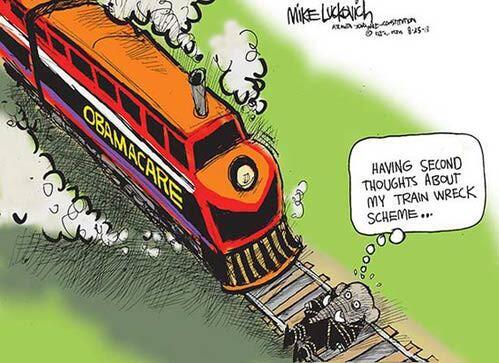 WASHINGTON – In August, when a first-term Republican member of the House from North Carolina hatched the idea of defunding "Obamacare" while funding the government, Reps. Chris Collins and Tom Reed didn't necessarily think it was a good plan.
Neither local lawmaker signed a letter from Rep. Mark R. Meadows to House Speaker John A. Boehner, R-Ohio, pushing that idea. Instead, Collins and Reed talked of other tactics for overturning the health care law they both detest.
By mid-September, though, Collins and Reed had agreed to Meadows' approach.
More importantly, so had Boehner – who only 10 months earlier said Republicans would back off from their attempts to repeal the Affordable Care Act. " 'Obamacare' is the law of the land," Boehner said after President Obama, the law's namesake, won re-election.
The story of how Boehner changed his mind – and how mainstream Republicans such as Collins and Reed did, too – is, in essence, the story of why the federal government shut down this week.
It's also the story of the outsize power of a group of 30 to 40 GOP lawmakers, most of whom you've probably never heard of, who have come to infuse the House with the don't-tread-on-me spirit of the tea party voters who elected them.
You can see that spirit in the tone of Meadows' Aug. 22 statement announcing his letter to Boehner, which calls on the GOP leadership to defund "Obamacare" in the continuing resolution that Congress had to pass by Monday to fund the government for the 2013-14 fiscal year.
"We want House leadership to know they have a large group of members ready to stand with them to stop the president's destructive and unaffordable health care law," said Meadows, who got 79 of his GOP colleagues to join him on the letter. "Despite sending the letter today, I will continue to keep a running list of members who choose to lend their names to this crucial effort."
Collins said he refused to sign the letter for two reasons. First and foremost, he said in an interview Tuesday, is that he prefers to talk to House leaders on the phone or on the House floor rather than through such letters. Moreover, the Clarence Republican said, he was "concerned" about the Meadows letter.
Knowing that House leaders wanted changes to "Obamacare" as the price for raising the federal debt ceiling – which Congress must do by Oct. 17 or risk a calamitous federal default – Collins said he preferred waiting to fight the health care battle until then.
"What I was not then sold on was the urgency of bringing this fight on the continuing resolution," Collins said. "It was coming, anyway, and maybe the pragmatic side of me says that as long as I know we're going to fight the good fight and stand our ground on the debt ceiling, I was content to fight that fight."
Reed said he was unaware of the Meadows letter – not that he would have signed it if he had seen it. "I always prefer to deal with these issues one by one," the Corning Republican said.
Boehner does, too – but after many machinations, he changed his mind. And it was all because of mathematics.
There are 232 Republicans in the House, along with 200 Democrats. To win a majority on controversial votes, Boehner needs 217 Republican votes – and without a big chunk of the 30 to 40 tea party members, he can't get there. "The clock winds down, and you've got to get something passed," Collins said.
Several weeks ago, Collins told The Buffalo News that he would support "a clean CR," or continuing resolution, a government funding bill that's not tied to defunding or delaying "Obamacare." But he changed his mind just as the GOP leadership did.
"Things evolve, and times change, and debate is good, and that's occurred over the last month or two months," Collins said. "It's evolved in that the leadership team finally coalesced under the strategy that came forward, and I'm certainly supportive of dealing with the issues in this way."
As for Reed, he said his back has stiffened as it became clear that Obama and Senate Majority Leader Harry Reid, D-Nev., would not negotiate changes to the health care law under any circumstances.
"To me, a clean CR is just maintaining the status quo," said Reed, who voted for both the GOP funding bill to defund "Obamacare" and a subsequent version to merely delay its requirement that individuals get health insurance starting in January. "And I didn't come to Washington to maintain the status quo."
Still, Reed is willing to settle for far less than the tea party members have demanded. He has introduced a government funding bill that would simply repeal the subsidies that lawmakers and their staffers receive for health care.
"If that's all the Senate is willing to take up, I see that as a step in the right direction," Reed said.
Martha Robertson, of Dryden, chairwoman of the Tompkins County Legislature and Reed's likely Democratic opponent in the 2014 election, didn't think much of what she saw as Reed's shifting stances. "It seems to me that this is policy by putting your finger in the wind," she said.
The Democrats who control the Senate don't think much of the House Republican ideas, either.
Obama and Democratic senators have refused to negotiate changes in the health law as part of the budget process, saying that doing so would lead tea party lawmakers in the House to hold other legislation hostage to their demands.
"Simply put, this is a tea party temper tantrum, and it's time for the Republican majority in Congress to come to their senses and put people over politics and get back to work," said Sen. Kirsten E. Gillibrand, D-N.Y.
That seems to be what the American public thinks, too.
A Quinnipiac University poll released Tuesday showed that by 72 percent to 22 percent, Americans don't think that "shutting down major activities of the federal government" is a good way for Republicans to try to force changes to the health care law.
Not surprisingly, then, the House late Tuesday took up three bills that would partly end the shutdown by funding veterans programs, national parks and the District of Columbia government – bills that Collins and Reed supported but that Democrats derided as leaving important parts of the government unfunded.
"House Republicans are trying to damage-control their actions," said Rep. Brian Higgins, D-Buffalo. "Meanwhile, today, 30 child cancer patients were turned away from treatment at the National Cancer Institute because of the shutdown."
Collins and Reed insist, though, that they do not favor the government shutdown that resulted, finally, from Meadows' demand that the government not be funded unless "Obamacare" was obliterated.
In his letter to Boehner, Meadows – a businessman with no government experience before being elected to Congress last fall – called the health care law "one of the largest grievances in our time."
His letter also included an egregious error. It said "Obamacare" depends on annual appropriations from Congress for its implementation – but it doesn't, depending instead on independent funding streams.
That's why the health insurance "exchanges" opened for business as scheduled for the first time Tuesday under the Affordable Care Act, just as much of the rest of the government was shutting down.